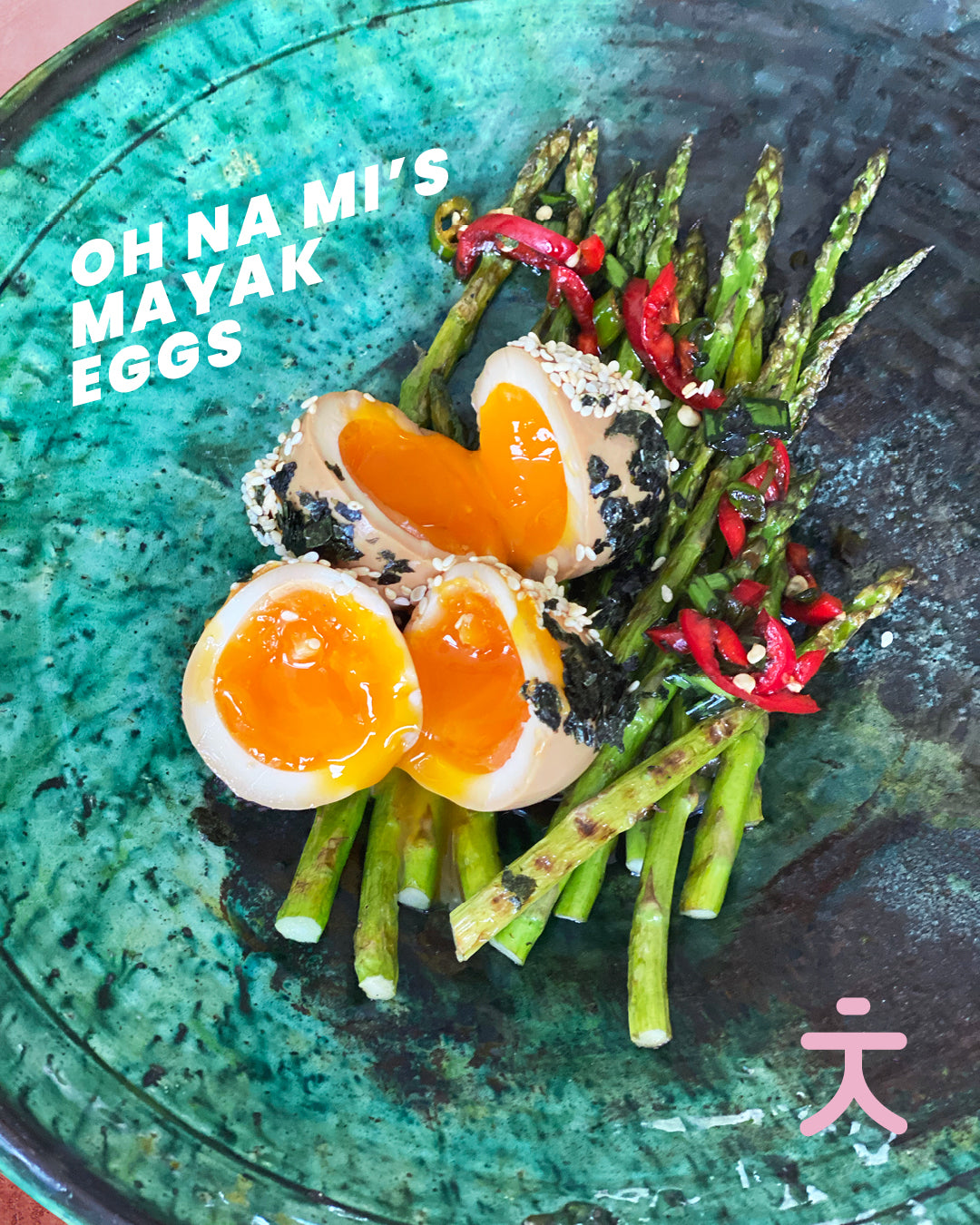 Oh Na Mi's Mayak Eggs 🥚
We're all about bringing a taste of Korea to the flavor-seekers. Make them your own, or dive into the traditional, either way, Mayak eggs are a simple way to boost your meals with complexity and flavor!
What you'll need:
6 large eggs (cold or room temperature)
1 tbsp vinegar (for peeling eggs)
1 tbsp sesame oil
For the Mayak Egg Marinade:
½

cup soy sauce
1 tbsp dark soy sauce

½

cup water

¼

cup sugar
2 cloves garlic, minced
3 stalks scallions, chopped
3 peppers (red or green), sliced
1 tbsp sesame seeds
Let's Oh Na Mi this! 💥
1. Prepare the marinade: In a bowl, mix together the soy sauce, dark soy sauce (if using), water, sugar, minced garlic, chopped scallions, sliced peppers, and sesame seeds. Set the marinade aside.
2. Soft-boiled eggs: Fill a large pot with water and bring it to a boil. Add the vinegar to the boiling water. Gently lower each egg into the pot. If the eggs are at room temperature, set a timer for 6 minutes. For cold eggs, set the timer for 7 minutes. Stir the eggs in one direction for the first 30 seconds for an even cross-section.
3. Peel the eggs: Once the timer is up, transfer the eggs to an ice bath to stop the cooking process. After they have cooled, crack the shell all over and carefully peel the eggs by inserting a spoon between the egg and the shell.
4. Marinate the eggs: Place the peeled eggs in a container and pour the prepared marinade on top. For optimal flavor, allow the eggs to marinate overnight in the refrigerator.
5. Serve: To serve, cut each egg in half and drizzle toasted sesame oil on top. Enjoy the delicious Mayak Eggs!
Note: You can adjust the amount of marinade according to your preference. Feel free to experiment with additional toppings or garnishes (like our favorite pairing, Oh Na Mi kimchi).