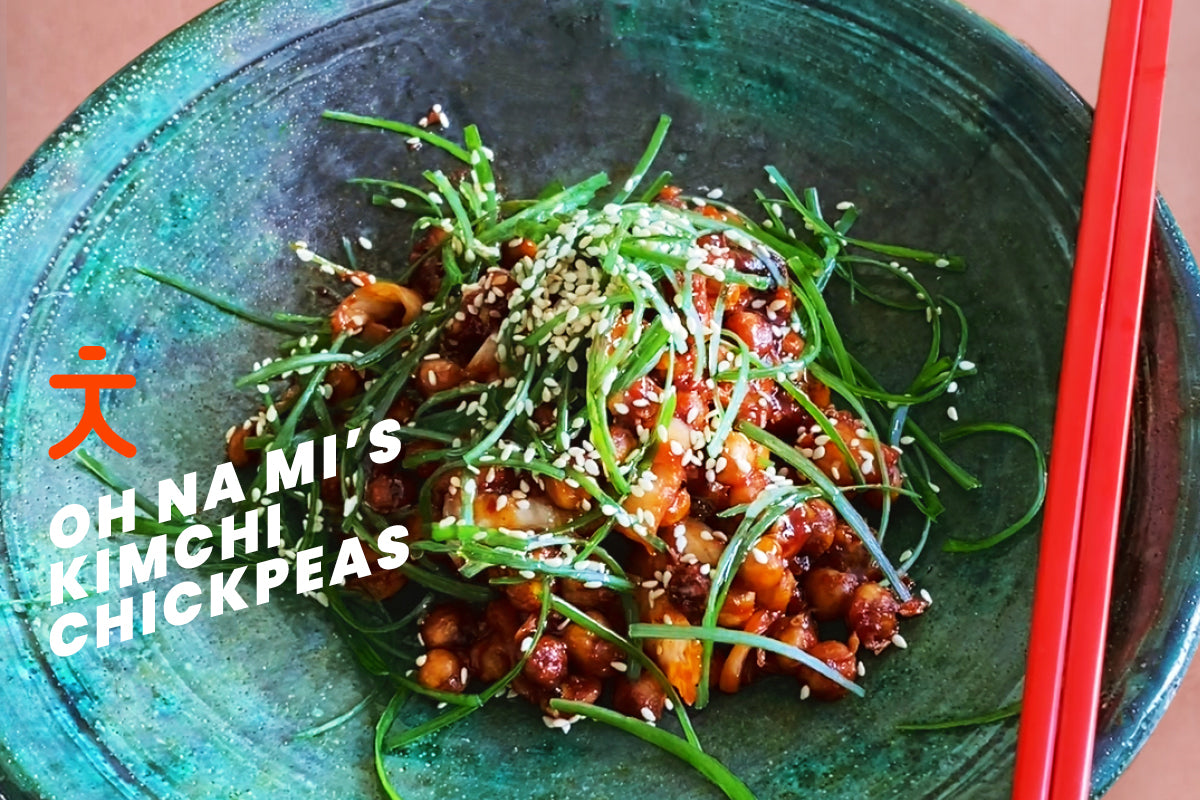 Oh Na Mi's Kimchi Chickpeas 🥢
Traditionally used to pack fried chicken with even more flavor, yangnyeom is a sweet and sticky sauce that goes well with just about anything. Take this recipe for Crispy Yangnyeom Chickpeas adapted from Bill Kim and Chandra Ram's cookbook, "Korean BBW: Master Your Grill in Seven Sauces" for example. A vegetarian take on classic Korean cuisine. Let's Oh Na Mi this!
What you'll need:
1 can chickpeas, drained, rinsed, and dried on a paper towel 
2 tbsp olive oil
Kosher salt and freshly ground black pepper
3 tbsp ketchup
1 tbsp Oh Na Mi Jang
1 tbsp strawberry jam
1 tbsp soy sauce
1 tbsp minced garlic
1 tbsp honey
1 tbsp toasted sesame seeds
2 large scallions, julienned into long thin strips, soaked in iced water 
Let's Cook:
Preheat the oven to 180°C.
Add the chickpeas and olive oil to a sheet pan and toss to combine. Season to taste and toss again. Place in the oven and bake until crispy (25 to 30 minutes) shaking the pan halfway through.
Meanwhile, in a small saucepan over medium-high heat, combine the ketchup, gochujang, strawberry jam, soy sauce, and garlic and bring to a gentle simmer, stirring constantly. Cook this yangnyeom sauce until fragrant (about 1 minute).
Add the crispy chickpeas to the pan and continue to cook, stirring constantly, until the sauce reduces slightly and gets absorbed by the chickpeas, and the chickpeas get sticky (2 to 3 minutes).
Transfer the sticky chickpeas to a serving bowl and drizzle over the honey. Sprinkle with the sesame seeds and drained scallions and serve up some sticky, delicious flavor. 👌🏽