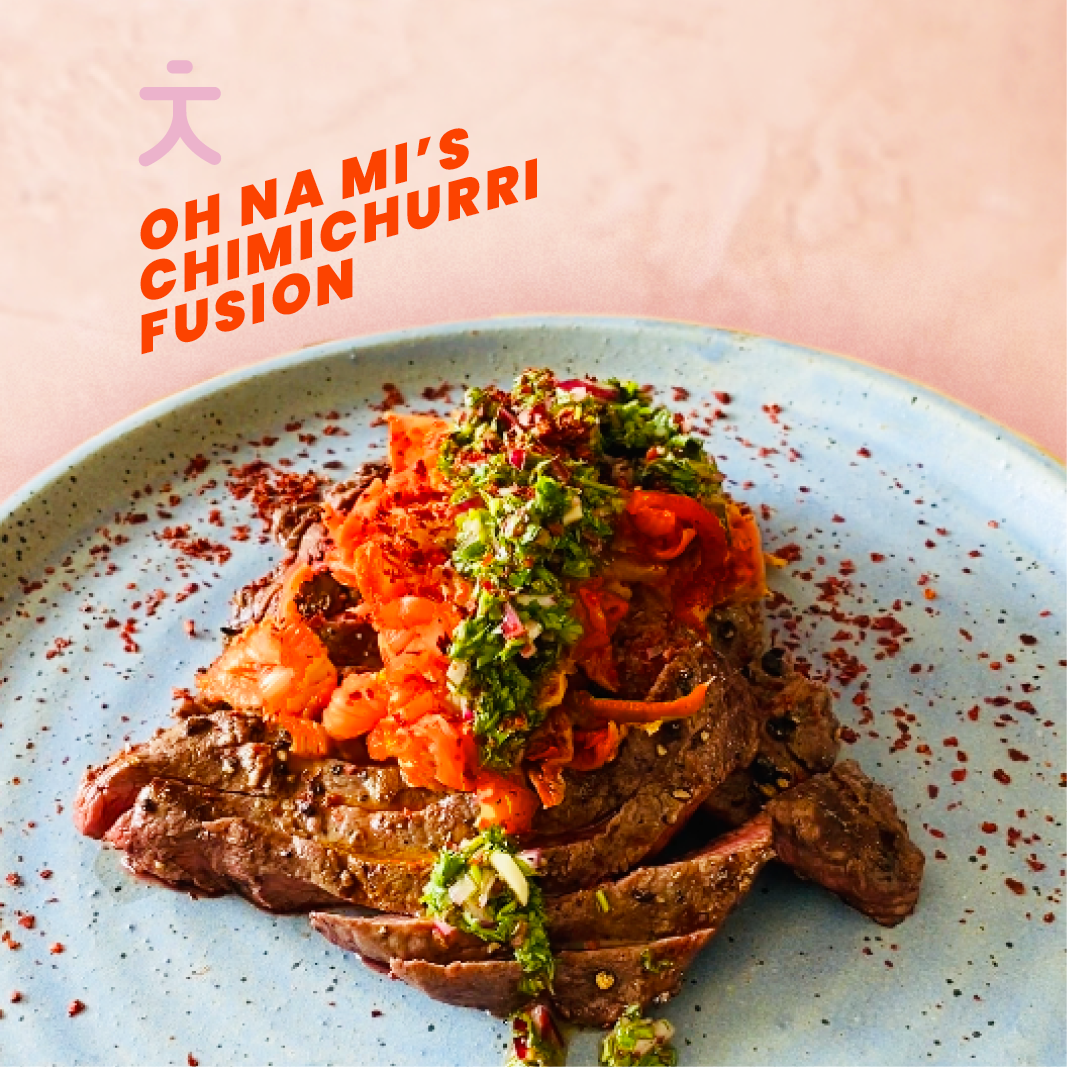 Oh Na Mi's Chimichurri Fusion 😊
Here's a taste from South America to illustrate just how versatile kimchi can be. It's always perfect with a grilled steak, but the freshness of the herbs and tangy lemon in the chimichurri come together as if they were always meant to be. This is just one of the many "fusion" dishes from around the world that we have up our sleeves.🥢
Flat Iron Steak with Kimchi and Chimichurri
What you'll need:
For the Chimichurri:
1 cup parsley, finely chopped

½

cup chervil, finely chopped

¼

cup fresh oregano, finely chopped
A few sprigs of mint, finely chopped
1 small red onion, finely chopped
1 clove of garlic, minced
1 tbsp wine vinegar
Juice of 1 lemon (with a bit of the peel grated for lemony essence)
8 tbsp extra virgin olive oil
1 tsp Gochugaru (Korean pepper flakes)
Salt, to taste
For the Steak:
1 piece flat Iron steak (sukade or schouder)
2 tbsp olive oil
Salt and pepper, to taste
1 jar Oh Na Mi Kimchi
Method:
Begin by making the chimichurri by mixing together the parsley, chervil, oregano, and mint in a bowl. Add the finely chopped red onion and minced garlic to the herb mixture. Stir to combine. Pour in the wine vinegar and lemon juice. Grate a bit of the lemon peel into the bowl for some lemony essence. Mix everything together. Slowly drizzle in the extra virgin olive oil while continuously stirring the mixture. This will help emulsify the ingredients and create a cohesive chimichurri. Sprinkle in the Gochugaru (Korean pepper flakes) and add salt to taste. Adjust the amount of Gochugaru according to your desired level of spiciness.
Next, prepare the steak by placing a large grill pan over medium-high heat. Pat the meat dry with paper towel and rub with oil, freshly ground black pepper and salt. Place the steak in the pan and grill for 2-3 minutes per side. Rest for a few minutes before slicing into strips. Top the steak with heaps of kimchi and generously drizzle with fresh chimichurri sauce.