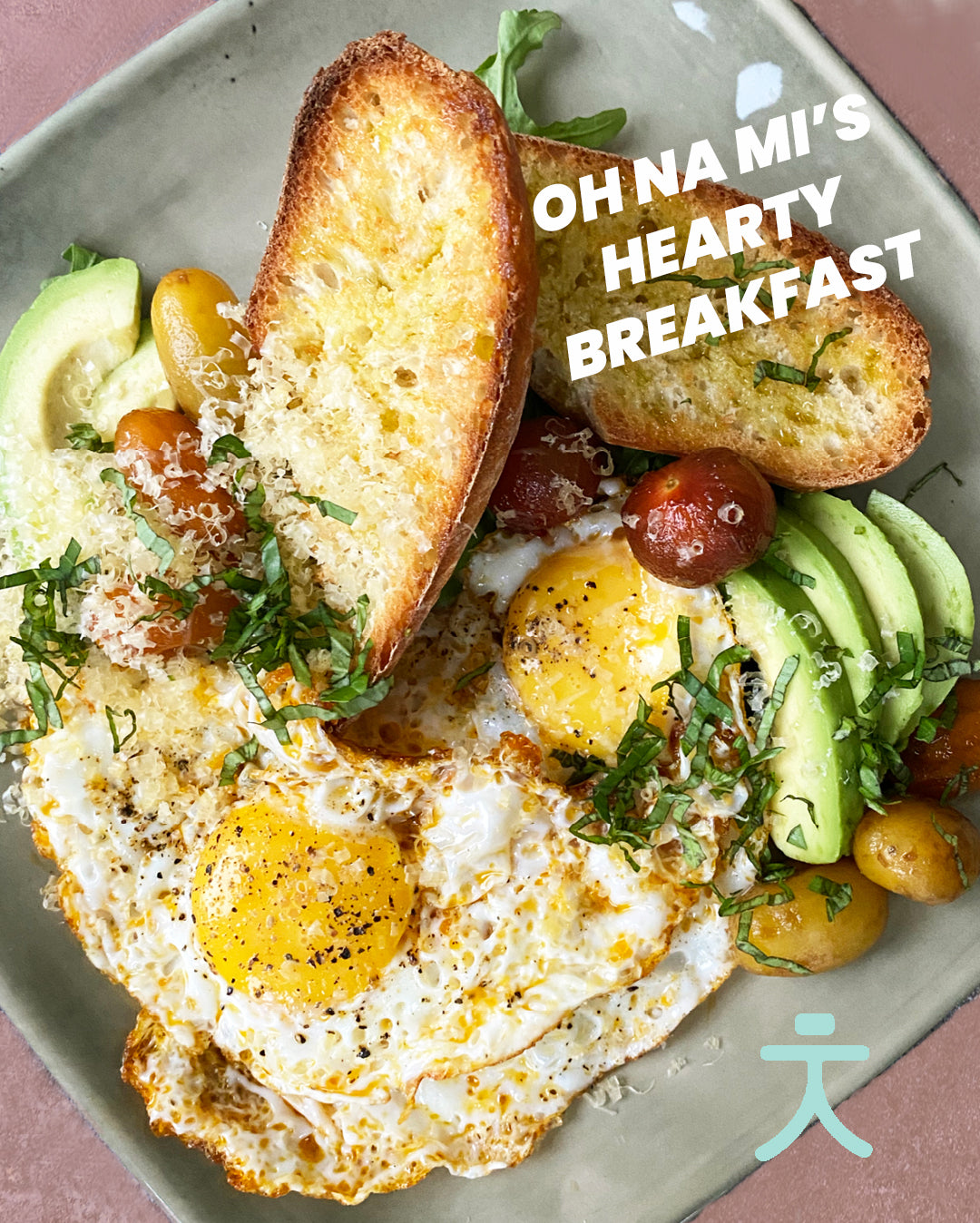 Oh Na Mi's Eggs & Jang Breakfast 🍅
Let's Oh Na Mi this hearty breakfast⁠.
⁠
What you'll need:
A handful of cherry tomatoes, blanched & peeled Balsamic vinegar, to taste ⁠

Sugar, to taste ⁠

Salt, to taste⁠

A dash of Worcestershire sauce⁠

A dash of soy sauce⁠

A pinch of celery salt⁠

2 eggs⁠

Chili crisp oil ️⁠

Sourdough, sliced⁠

1 garlic clove, sliced in half⁠

Extra Virgin Olive Oil⁠

1⁄2 a ripe avocado, sliced⁠

Basil/coriander/parsley, finely chopped⁠

Extra mature Dutch cheese (with a nutty, caramel, umami flavor), finely grated⁠

LOTS of Oh Na Mi Jang sauce (trust us 😉️)⁠ 
Let's Oh Na Mi this Breakfast! 💥
1. Combine the balsamic vinegar, sugar, salt, Worcestershire sauce, soy sauce & celery salt in a bowl. ⁠
Note: You can adjust each ingredient to your liking.⁠

2. Add the blanched & peeled tomatoes to the bowl and let marinade/pickle for at least 30 minutes. The result should be fresh tomatoes that taste almost like ketchup.⁠
⁠
3. Add some chili crisp oil to a frying pan over medium-high heat and fry your eggs to your liking. Toast the sourdough and rub each slice with the garlic (just one or two quick scrapes). Drizzle the toast with olive oil.⁠
⁠
4. Add your eggs, tomatoes and avocado to the toast. Finish with finely chopped fresh herbs of your choice and a dusting of finely grated cheese plus lashings of Oh Na Mi Jang Kimchi Sauce.⁠
⁠
The Jang Kimchi Sauce will round off the dish with a finishing sharpness of spice/umami/ sour.⁠